Peran Pemerintahan Desa dalam Melakukan Praktik Pembangunan Infrastruktur
Keywords:
pemerintahan desa, infrastruktur
Abstract
Peran pemerintahan desa sebagai pihak yang memiliki kewenangan dituntut supaya mampu melaksanakan amanat undang – undang, yakni mewujudkan kesejahteraan masyarakat, melalui praktik pembangunan di desa, khususnya pembangunan di bidang infrastruktur, karena posisinya penting untuk meningkatkan mobilitas masyarakat dalam rangka menunjang aktifitas ekonomi desa. Tujuan penelitian ingin melihat pemerintahan desa dalam menjalankan praktik. Jenis penelitian ini adalah kualitatif deskriptif dengan jenis data nya berupa data primer dan sekunder, seperti: wawancara, dokumentasi serta dokumen, data yang terkumpul kemudian di uji keabsahan, melalui teknik triangulasi. Hasil penelitian memperlihatkan peran pemerintahan desa dalam proses pembangunan Infrastruktur sangat efektif, dengan melibatkan seluruh lapisan masyarakat, dan juga melaporkan kegiatan pembangunan secara transparan.
References
Djumiarti, T. (2005). Strategi Pengentasan Kemiskinan : Potret Keberhasilan Pembangunan. "Dialogue" JIAKP , 884 - 897.
Ginting, A. M. (2015). Pengaruh ketimpangan pembangunan antar wilayah terhadap kemiskinan di Indonesia 2004 - 2013. Kajian , 45 - 58.
Hadi, S. (2016). Pemeriksaan Keabsahan data penelitian kualitatif pada skripsi. Jurnal Ilmu Pendidikan , 74 - 79.
Huraerah, A. (2013). Strategi Kebijakan Penanggulangan Kemiskinan di Indonesia. Jurnal Ilmu Kesejahteraan Sosial Vol. , 3 - 13.
Junaid, I. (2016). Analisis Data Kualitatif dalam penelitian pariwisata. Jurnal Kepariwisataan , 59 - 74.
Kambo, G. A. (2015). Etnisitas dalam Otonomi Daerah. Journal The Politics , 1 - 8.
Labolo, M. (2017). Peluang dan Ancaman otonomi deasa pasca undang - undang nomor 06 tahun 2014 tentang Desa. Jurnal Ilmiah Wahana Bhakti Praja , 73 - 82.
Marbun, D., & Suryahadi, A. (2009). Keriteria Kemiskinan Konsumsi : Praktik di Indonesia dan beberapa Catatan. Jurnal Analisis Sosial , 19 - 30.
Nurjaman, R. (2015). Dinamika dan Problematika Implementasi Undang-Undang Desa: Pembelajaran dari Tiga Daerah di Jawa Barat. Jurnal Desentralisasi , 47 - 60.
Saraswati, R. (2014). Arah Politik Hukum Pengaturan Desa Ke Depan (Ius Constituendum). Masalah Masalah Hukum , 313 - 321.
Solikatun, Supono, Masruroh, Y., & Zuber, A. (2014). Kemiskinan dalam Pmebangunan. Jurnal Analisa Sosiologi , 70 - 90.
Statistik, B. P. (2020). Badan Pusat Statistik . Dipetik 2020, dari Badan Pusat Statistik : https://www.bps.go.id/linkTableDinamis/view/id/1119
Sugihan, P. D. (2019). Data Desa Sugihan . Wonogiri: Pemerintahan Desa Sugihan.
Susilo, W. H. (2010). Penelitian Kualitatif Aplikasi Pada Penelitian Ilmu Kesehatan. Jakarta: www.nulisbuku.com.
Syawie, M. (2011). Kemiskinan dan kesenjangan sosial. Sosio Informa , 213 - 219.
Wirutomo, P. (2010). Perang Melawan Kemiskinan. Jurnal Sosiologi Masyarakat , 1 - 10.
Murdiyanto. (2020). Hasil Wawancara.
Redi Asmoro, Y. (2020). Dokumentasi foto.
Sriyanto. (2020). Hasil Wawancara.
Suranto, D. (2019). Dokumentasi foto.
Widodo. (2020). Hasil Wawancara.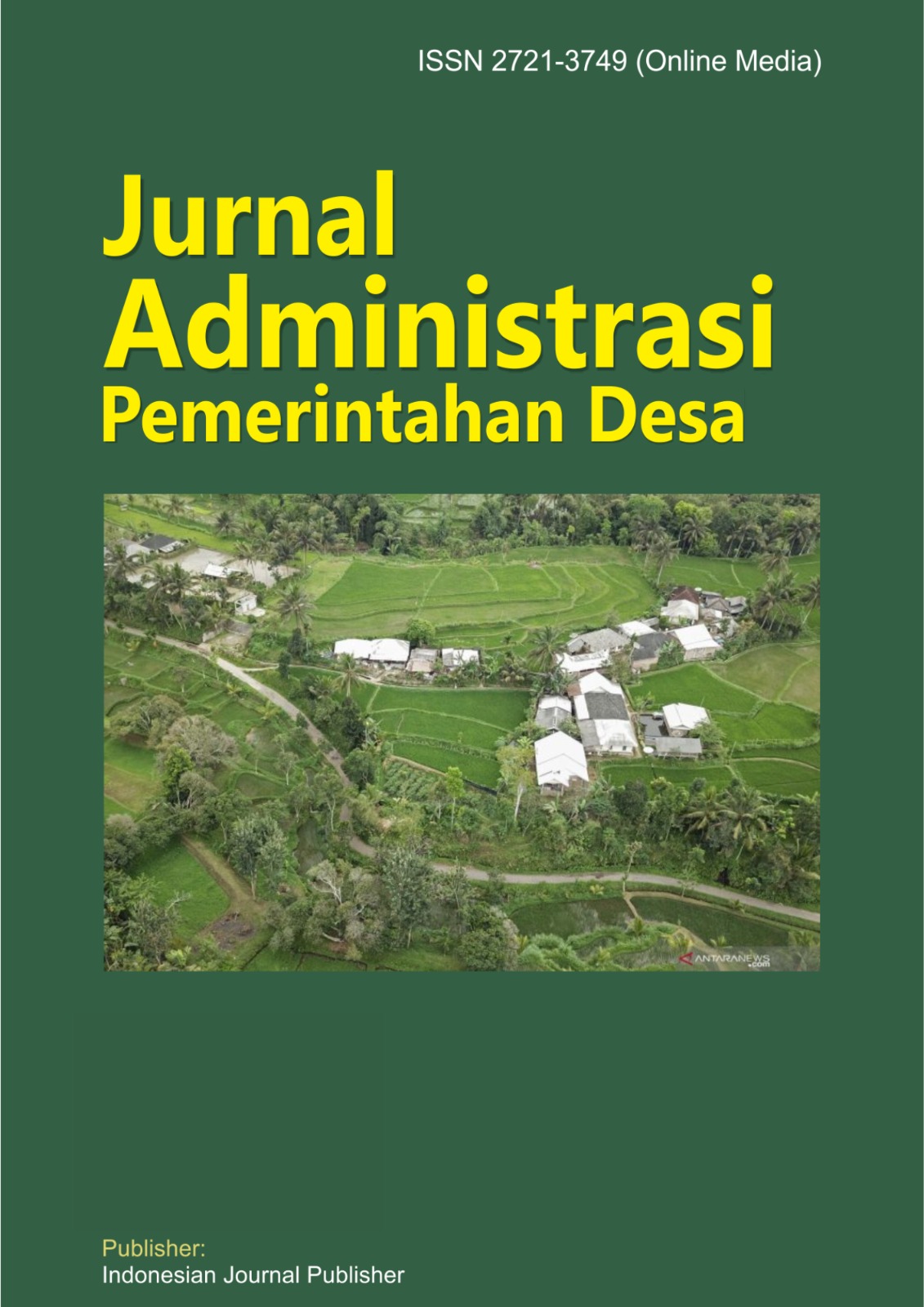 Downloads
How to Cite
Hilman, Y. A., & Asmoro, Y. R. (2020). Peran Pemerintahan Desa dalam Melakukan Praktik Pembangunan Infrastruktur. Jurnal Administrasi Pemerintahan Desa, 1(2), 128–141. https://doi.org/10.47134/villages.v1i2.10
License
This journal is based on the work at https://villages.pubmedia.id/index.php/villages under license from Creative Commons Attribution-ShareAlike 4.0 International License. You are free to:
Share – copy and redistribute the material in any medium or format.
Adapt – remix, transform, and build upon the material for any purpose, even commercially.
The licensor cannot revoke these freedoms as long as you follow the license terms, which include the following:
Attribution. 

You must give appropriate credit

, provide a link to the license, and indicate if changes were made.

 You may do so in any reasonable manner, but not in any way that suggests the licensor endorses you or your use.

ShareAlike. If you remix, transform or build upon the material, you must distribute your contributions under the same license as the original.
No additional restrictions. 

You may not apply legal terms or technological measures

 that legally restrict others from doing anything the license permits.
Information for authors
The author should be aware that by submitting an article to this journal, the article's copyright will be fully transferred to Jurnal Administrasi Pemerintahan Desa. Authors are allowed to resend their manuscript to other journals or intentionally withdraw the manuscript only if both parties (Jurnal Administrasi Pemerintahan Desa and Authors) have agreed on the issue. Once the manuscript has been published, authors are allowed to use their published article under Jurnal Administrasi Pemerintahan Desa copyrights.
All authors are required to deliver the agreement of license transfer once they submit the manuscript to Jurnal Administrasi Pemerintahan Desa. By signing the agreement, the copyright is attributed to this journal to protect the intellectual material for the authors. Authors are allowed to share, copy and redistribute the material in any medium and in any circumstances.
• Creative Commons Attribution-ShareAlike (CC BY-SA)

Jurnal Administrasi Pemerintahan Desa is licensed under an International License