Karakteristik Modeling/Profiling Wilayah Pemilihan Desa Berdasarkan Potensi Demografis dan Geografis di Kabupaten Bandung
Keywords:
Desa, Karakteristik, Modeling, Profiling
Abstract
Desa merupakan kesatuan masyarakat yang memiliki batas wilayah dan mengurus urusan pemerintahannya sendiri. Kabupaten Bandung memiliki hampir 200 desa dengan kondisi geografis dan demografis yang berbeda-beda. Tujuan penelitian ini adalah melakukan eksplorasi data dan informasi yang dapat dijadikan sebagai dasar argumentatif dan ilmiah terkait karakteristik modeling/profiling wilayah pemilihan desa berdasarkan potensi demografis dan geografis di Kabupaten Bandung. Metode yang dipergunakan dalam penelitian ini adalah metode deskriptif. Teknik pengumpulan data dalam penelitian ini melalui studi pustaka dan studi lapangan. Studi lapangan dilakukan melalui observasi non partisipan, wawancara, Focus Group Discussion (FGD) dan dokumentasi. Hasil penelitian menggambarkan bahwa terdapat tiga klasifikasi desa, yaitu desa swadaya yang sifatnya masih tradisional, adat istiadat masih sangat kental hubungan antar sosial masih sangat-sangat erat, desa swakarya yang juga disebut desa transisi adalah desa yang setingkat lebih maju dari desa swadaya, dimana adat istiadat masyarakat desa sedang mengalami perubahan pola pikir masyarakat dan bertambahnya pekerjaan di desa sehingga mata pencaharian sudah mulai berkembang tidak lagi bergantung pada bertani, beternak atau hasil hutan, dan desa swasembada  dimana masyarakatnya telah mampu memanfaatkan dan mengembangkan sumber daya alam dan potensinya sesuai dengan kegiatan pembangunan regional. Hal ini telah menunjukkan adanya pemetaan desa di Kabupaten Bandung.
References
to, D., & Nilogiri, A. (2019). Klasifikasi Status Desa di Kabupaten Banyuwangi dengan menggunakan metode naive bayes. Unmuh Jember.
Kurniasih, D. (2011). Perubahan Status Desa Menjadi Kelurahan Di.
Kurniasih, D., Subagyo, A., & Agustina, S. (2016). Penyusunan Tugas Dan Fungsi Perangkat Daerah Di Lingkungan Pemerintah Kabupaten Bandung. Jurnal Ilmu Politik Dan Komunikasi, VI(1), 127–138.
Soleh, A. (2017). Strategi Pengembangan Potensi Desa. Jurnal Sungkai, 5(1), 35–52.
Susilawati, N. (2012). Sosiologi Pedesaan. In Sosiologi Pedesaan. Padang.
Yulianti, D., Suryana, & Setaiawan, A. Y. (2018). Hubungan Konsep Geografi Dengan Pengembangan Usaha Konveksi Serta Kesejahteraan Masyarakat Di Desa Cilame Kecamatan Kutawaringin Kabupaten Bandung. 1(1).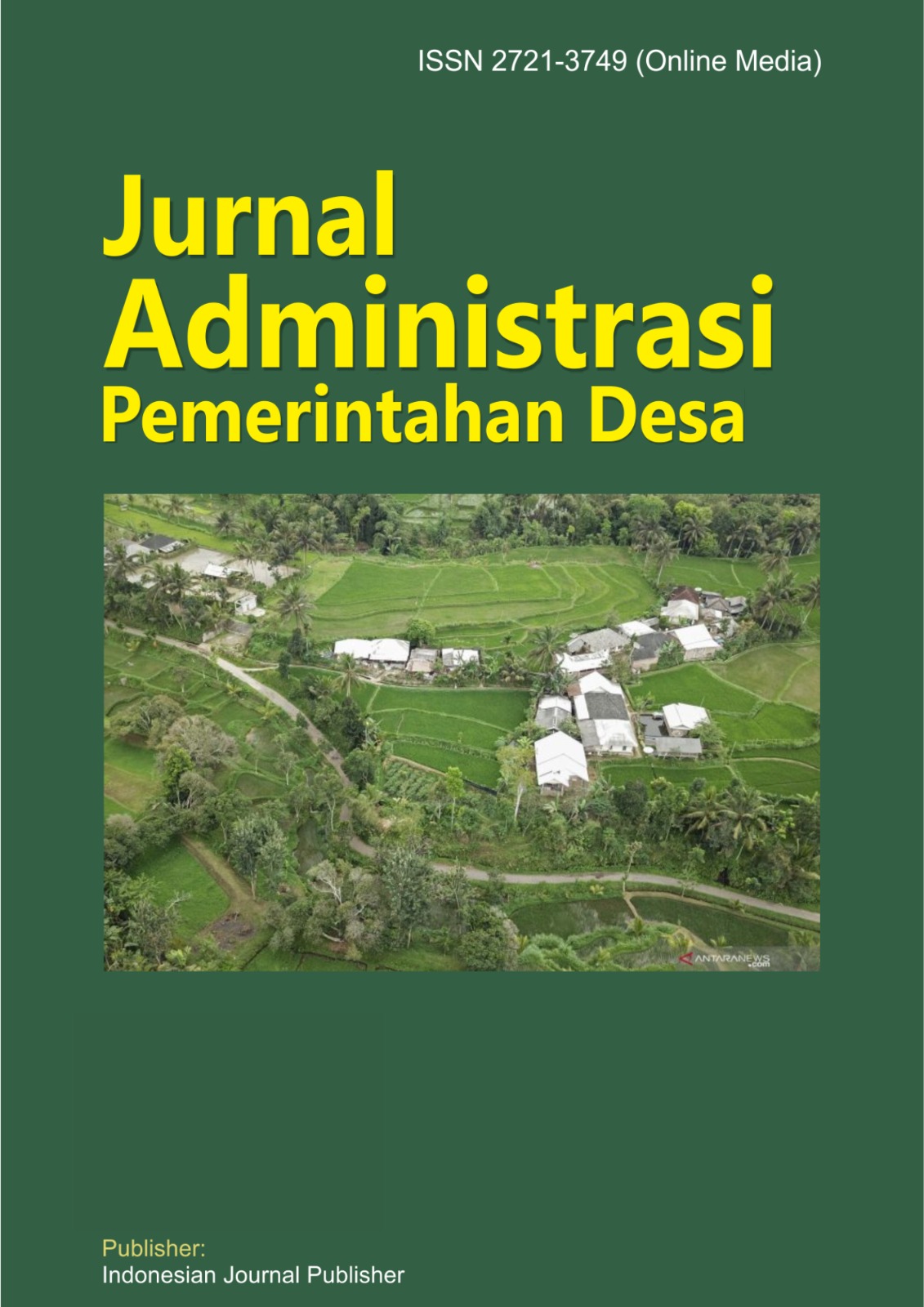 Downloads
How to Cite
Kurniasih, D., & Suhendar, C. (2021). Karakteristik Modeling/Profiling Wilayah Pemilihan Desa Berdasarkan Potensi Demografis dan Geografis di Kabupaten Bandung. Jurnal Administrasi Pemerintahan Desa, 2(1), 54–67. https://doi.org/10.47134/villages.v2i1.19
License
This journal is based on the work at https://villages.pubmedia.id/index.php/villages under license from Creative Commons Attribution-ShareAlike 4.0 International License. You are free to:
Share – copy and redistribute the material in any medium or format.
Adapt – remix, transform, and build upon the material for any purpose, even commercially.
The licensor cannot revoke these freedoms as long as you follow the license terms, which include the following:
Attribution. 

You must give appropriate credit

, provide a link to the license, and indicate if changes were made.

 You may do so in any reasonable manner, but not in any way that suggests the licensor endorses you or your use.

ShareAlike. If you remix, transform or build upon the material, you must distribute your contributions under the same license as the original.
No additional restrictions. 

You may not apply legal terms or technological measures

 that legally restrict others from doing anything the license permits.
Information for authors
The author should be aware that by submitting an article to this journal, the article's copyright will be fully transferred to Jurnal Administrasi Pemerintahan Desa. Authors are allowed to resend their manuscript to other journals or intentionally withdraw the manuscript only if both parties (Jurnal Administrasi Pemerintahan Desa and Authors) have agreed on the issue. Once the manuscript has been published, authors are allowed to use their published article under Jurnal Administrasi Pemerintahan Desa copyrights.
All authors are required to deliver the agreement of license transfer once they submit the manuscript to Jurnal Administrasi Pemerintahan Desa. By signing the agreement, the copyright is attributed to this journal to protect the intellectual material for the authors. Authors are allowed to share, copy and redistribute the material in any medium and in any circumstances.
• Creative Commons Attribution-ShareAlike (CC BY-SA)

Jurnal Administrasi Pemerintahan Desa is licensed under an International License