Korelasi Otonomi Desa dalam Proses Globalisasi
Keywords:
Otonomi Desa, Globalisasi, Pembangunan
Abstract
Pengaturan otonomi desa dalam Undang—Undang Nomor 6 Tahun 2014 diantaranya untuk merespon proses globalisasi. Tulisan ini mendiskusikan korelasi antara implementasi otonomi desa yang memberi peluang pembangunan desa lebih berdaya dan mandiri dengan pengaruh globalisasi yang sudah menyentuh kehidupan masyarakat desa. Pengaruh proses globalisasi terhadap implementasi otonomi desa dapat dibedakan menjadi dua paradigma yakni positif dan negatif. Dalam perspektif positif, otonomi desa merespon globalisasi dengan mengafirmasi berbagai strategi global dalam upaya membangun dan mengembangkan ekonomi di desa. Sedangkan dalam pengertian negatif, otonomi desa telah termarjinalkan dan tertekan dalam system kapitalis dan mekanisme pasar yang menggurita.
References
___________, (2007). Pengawasan Pusat terhadap Daerah dalam Penyelenggaraan Pemerintahan Daerah, FH UII Press, Yogyakarta.
___________. (2008). Sistem Pemerintahan Indonesia, Edisi Revisi, Bumi Aksara, Jakarta.
Dahlan Thaib. (2000). Kedaulatan Rakyat Negara Hukum dan Konstitusi, Penerbit Liberty, Yogyakarta.
Debora Sanur Lindawaty, Dukungan Pemerintah Terhadap Otonomi Desa: Perbandingan Indonesia dan Cina, Politica Vol. 3, No. 2, November 2012.
Kansil, C.S.T. (1991). Pokok-Pokok Pemerintahan Di Daerah, Dilengkapi dengan pemerintah desa dan pembangunan desa, Rineka Cipta, Jakarta.
Kushandajani, Implikasi UU Nomor 6 Tahun 2014 tentang Desa terhadap Kewenangan Desa, Yustisia Vol. 4 No. 2 Mei – Agustus 2015.
Lili Rasjidi, Wiyasa Putra, (2003).Hukum Sebagai Suatu Sistem, Mandar Maju Bandung.
Mansour Fakih,Neolibelarisme dan Globalisasi, Ekonomi Politik Digital Journal Al-Manär Edisi I/2004
Meri Yarni, Menuju Desa Yang Maju, Kuat, Mandiri, Dan Demokratis Melalui Undang-Undang No. 6 Tahun 2014 Tentang Desa, Inovatif Volume VII Nomor II Mei 2014.
Mohtar Mas'oed, (1994). Negara, Kapital dan Demokrasi, Pustaka Pelajar, Yogyakarta.
Muhammad Asfar, (2001). Implementasi Otonomi Daerah, CPPS-Pusdeham, Surabaya.
Ni'matul Huda, (2014). Perkembangan Hukum Tata Negara (Perdebatan dan Gagasan Penyempurnaan), FH UII Press, Yogyakarta.
Nyimas Latifah Letty Azizi, Otonomi Desa dan Efektivitas Dana Desa, Jurnal Pusat Penelitian Politik-Lembaga Ilmu Pengetahuan Indonesia (P2P-LIPI), Volume 13 No. 2 Desember 2016.
Robby Darwis Nasution, Pengaruh Kesenjangan Digital Terhadap Pembangunan Pedesaan (Rural Development), Jurnal Penelitian Komunikasi dan Opini Publik, Vol. 20 No. 1, Juni 2016
Suhardi Suryadi, (2007). Balai Mediasi Desa, Perluasan Akses Hukum dan Keadillan untuk Rakyat, ctk pertama, LP3ES, Jakarta.
Wasisto Raharjo Jati, Globalisasi dan Kemiskinan Desa: Analisa Struktur Ekonomi Politik Pedesaan, Jurnal Penelitian Politik , Volume 11 No. 2 Desember 2014.
Widjaja HAW., (2014). Otonomi Desa, Merupakan Otonomi yang Asli, Bulat, dan Utuh, Raja Grafindo Persada, Jakarta.
Undang Undang Dasar Negara Republik Indonesia 1945
Undang Undang Nomor. 5 Tahun 1974 tentang Pokok-Pokok Pemerintahan di Daerah
Undang Undang Nomor 5 tahun 1979 tentang Pemerintahan Desa
Undang Undang Nomor 22 Tahun 1999 tentang Pemerintahan Daerah
Undang Undang Nomor 32 Tahun 2004 tentang Pemerintahan Daerah
Undang-Undang Nomor 23 tahun 2014 tentang Pemerintahan Daerah
Undang Undang Nomor 6 Tahun 2014 tentang Desa
Peraturan Pemerintah Nomor 43 Tahun 2014 tentang Peraturan Pelaksanaan Undang-Undang Nomor 6 Tahun 2014 tentang Desa
Permendesa Nomor 1 Tahun 2015 tentan Pedoman Kewenangan Berdasarkan Hak Asal Usul dan Kewenangan Lokal Berskala Desa
Permendesa Nomor 2 Tahun 2015 tentang Pedoman Tata Tertib dan Mekanisme Pengambilan Keputusan Musyawarah Desa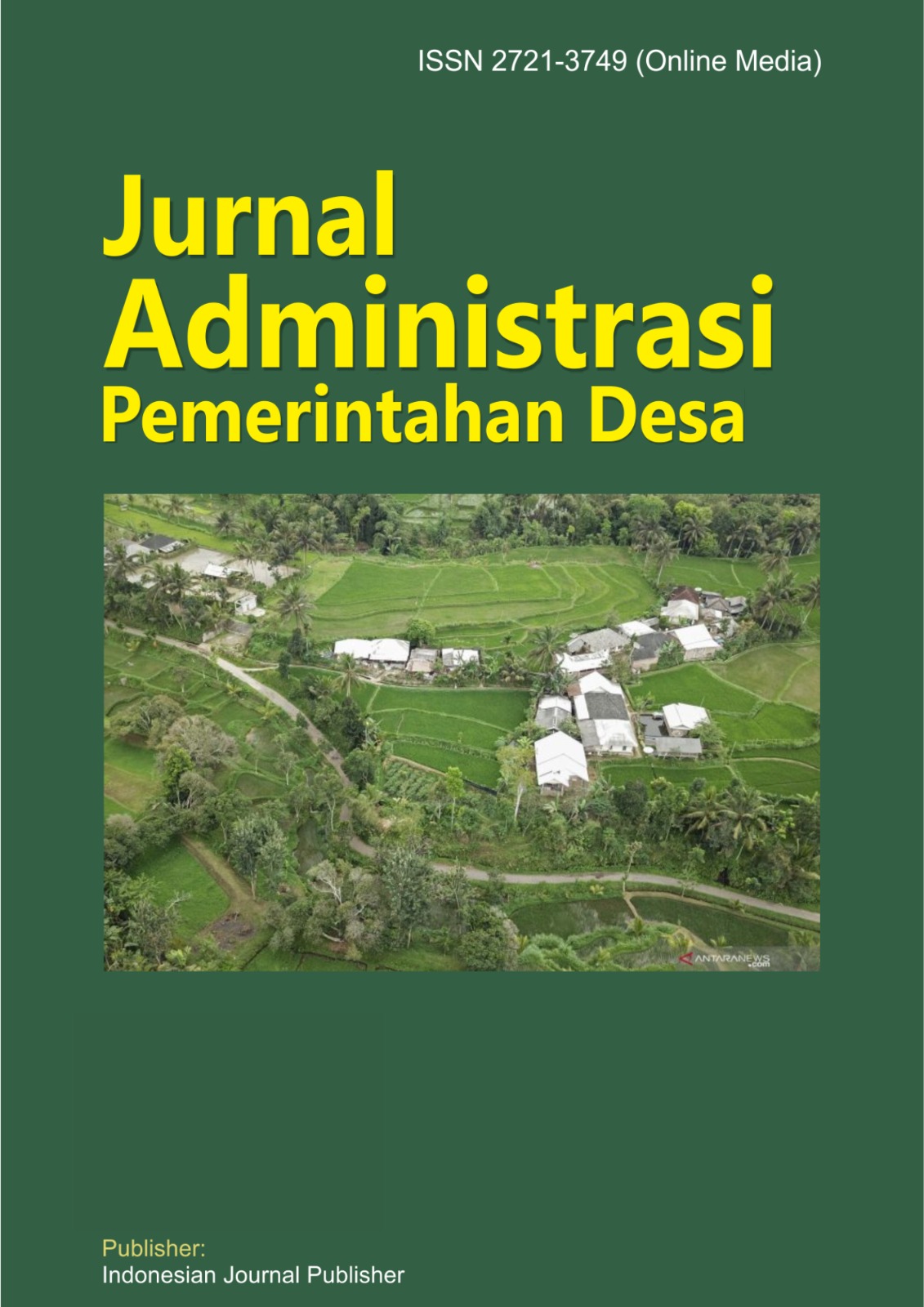 Downloads
How to Cite
Kokotiasa, W. (2021). Korelasi Otonomi Desa dalam Proses Globalisasi. Jurnal Administrasi Pemerintahan Desa, 2(1), 11–23. https://doi.org/10.47134/villages.v2i1.13
License
This journal is based on the work at https://villages.pubmedia.id/index.php/villages under license from Creative Commons Attribution-ShareAlike 4.0 International License. You are free to:
Share – copy and redistribute the material in any medium or format.
Adapt – remix, transform, and build upon the material for any purpose, even commercially.
The licensor cannot revoke these freedoms as long as you follow the license terms, which include the following:
Attribution. 

You must give appropriate credit

, provide a link to the license, and indicate if changes were made.

 You may do so in any reasonable manner, but not in any way that suggests the licensor endorses you or your use.

ShareAlike. If you remix, transform or build upon the material, you must distribute your contributions under the same license as the original.
No additional restrictions. 

You may not apply legal terms or technological measures

 that legally restrict others from doing anything the license permits.
Information for authors
The author should be aware that by submitting an article to this journal, the article's copyright will be fully transferred to Jurnal Administrasi Pemerintahan Desa. Authors are allowed to resend their manuscript to other journals or intentionally withdraw the manuscript only if both parties (Jurnal Administrasi Pemerintahan Desa and Authors) have agreed on the issue. Once the manuscript has been published, authors are allowed to use their published article under Jurnal Administrasi Pemerintahan Desa copyrights.
All authors are required to deliver the agreement of license transfer once they submit the manuscript to Jurnal Administrasi Pemerintahan Desa. By signing the agreement, the copyright is attributed to this journal to protect the intellectual material for the authors. Authors are allowed to share, copy and redistribute the material in any medium and in any circumstances.
• Creative Commons Attribution-ShareAlike (CC BY-SA)

Jurnal Administrasi Pemerintahan Desa is licensed under an International License