Analisa Laporan Penyelenggaraan Pemerintah Daerah di Masa Pandemi Covid-19
Abstract
The preparation of the LPPD is a form of accountability for the administration of local government in Sleman Regency for one year. This is mandatory because it has been stated in Law Number 23 of 2014 concerning Regional Government. In addition, the results of the collection of LPPDs to the Central Government will be used as a reference for policy-making on regional problems as well as an early detection tool for national policy problems.
References
Aan Komariah, Djam'an Satori (2014) Metodologi Penelitian Kualitatif. Bandung : Alfabeta.
Arikunto, S. (2013). Prosedur Penelitian: Suatu Pendekatan Praktik. Jakarta: Rineka Cipta.
Badrudin, R. (2012). Ekonomika Otonomi Daerah. Yogyakarta: UUP STIM YKPN.
Bungin, Burhan. (2013). Metode Penelitian Sosial & Ekonomi Format-Format Kuantitatif dan Kualitatif untuk Studi Sosiologi, Kebijakan Publik, Komunikasi, Manajemen, dan Pemasaran. Sidoarjo: Kencana.
Djaenuri. (2012) . Akuntansi Sektor Publik, Akuntansi Keuangan Daerah. Jakarta:Salemba Empat.
Halim, Abdul., (2012). Akuntansi Keuangan Daerah, Keempat. Jakarta : Salemba Empat.
Halim Abdul. (2014). Manajemen Keuangan Sektor Publik: Problematika Penerimaan Dan Pengeluaran Pemerintah (Anggaran Pendapatan Dan Belanja Negara/Daerah). Jakarta. Salemba Empat.
Hasniati. (2016). Model Akuntabilitas Pengelolaan Dana Desa. Jurnal Analisis dan Pelayanan Publik Vol.2 No.1 Universitas Hassanuddin: Makasar.
Halim, Abdul, dan M. Syam Kusufi., (2017). Teori, Konsep dan Aplikasi-Akuntansi Sektor Publik. Jakarta: Salemba Empat.
Mahmudi.(2013). Manajemen Kinerja Sektor Publik. Sekolah Tinggi IlmuManajemen YKPN, Yogyakarta.
Mardiasmo. (2006). Perwujudan Transparansi dan Akuntabilitas Publik Melalui Akuntansi Sektor Publik: Suatu Sarana Good Governance. Jurnal Akuntansi Pemerintah, Vol. 2 No.1, Hal 1-17.
Mardiasmo., (2009). Akuntansi Sektor Publik. Yogyakarta: Andi.
Mardiasmo. (2013). Perpajakan Edisi Revisi.Yogyakarta: C.V ANDI
Moh. Nazir. (2014). Metode Penelitian. Bogor: Ghalia Indonesia
Raba, Manggaukang. (2006). Akuntabilitas Konsep dan Implementasi. Malang : UMM Press.
Supriatna, H. (2015). Faktor-Faktor yang Mempengaruhi Profitabilita Perusahaan Manufaktur Publik. Jurnal Bisnis dan Akuntansi, 17.
Sugiyono. (2015). Metode Penelitian Kuantitatif, Kualitatif, dan R&D. Bandung : ALFABETA.
Sukmadinata,N.S.(2015).Metode Penelitian Pendidikan. Bandung : PT. Remaja Rosdakarya.
Perundang – undangan :
Peraturan Pemerintah Republik Indonesia Nomor 24 Tahun 2005 tentang Standar Akuntansi Pemerintahan
Undang-Undang Nomor 23 Tahun 2014 Tentang Pemerintahan Daerah
Permendagri No.13 Tahun 2006 Tentang Pedoman Pengelolaan Keuangan Daerah
Peraturan Presiden Republik IndonesiaNomor 29 Tahun 2014 Tentang Sistem Akuntabilitas Kinerja Instansi Pemerintan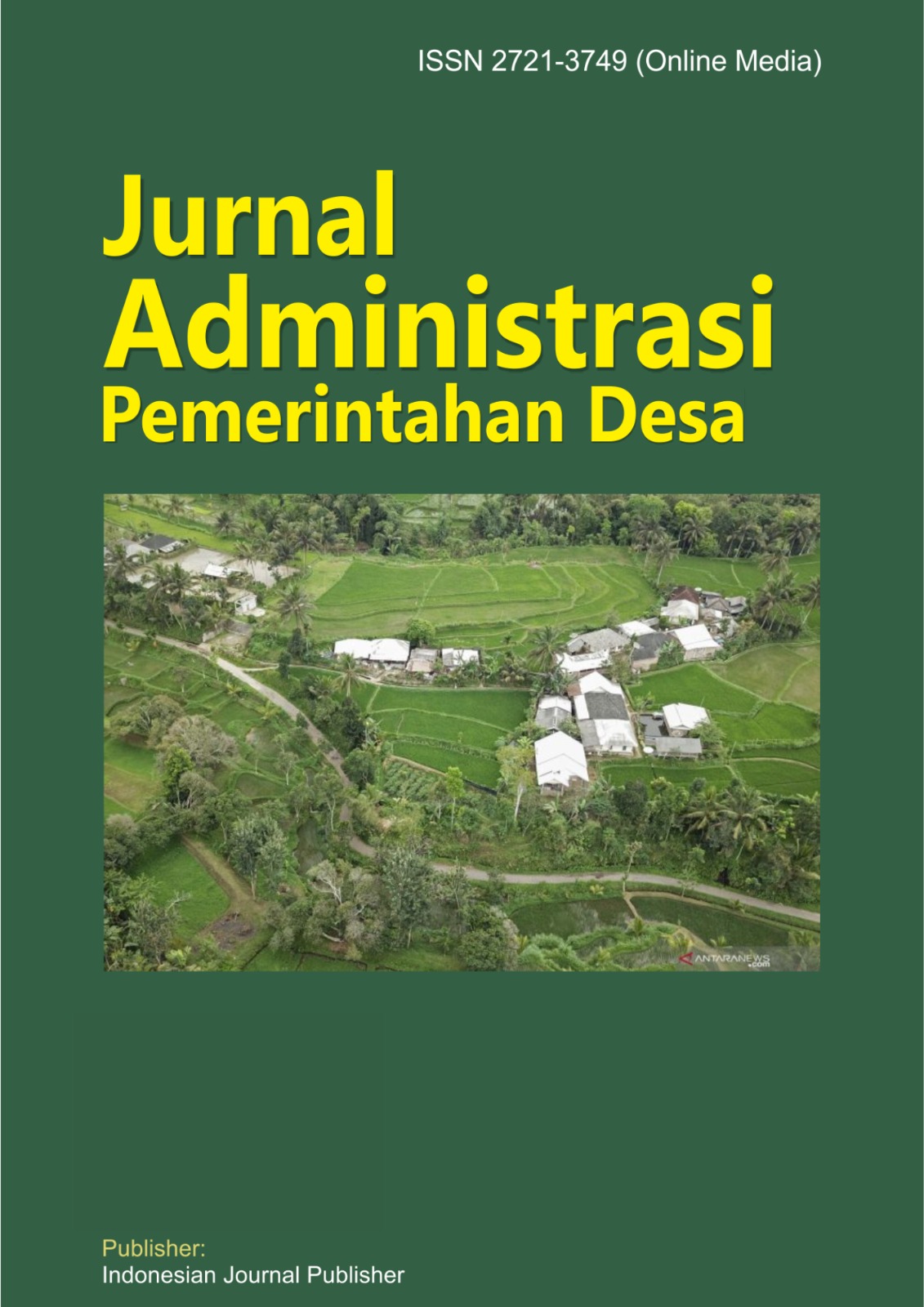 Downloads
How to Cite
Virdanti, C. R. A. N., & Triputro, R. W. (2022). Analisa Laporan Penyelenggaraan Pemerintah Daerah di Masa Pandemi Covid-19. Jurnal Administrasi Pemerintahan Desa, 3(2), 135–143. https://doi.org/10.47134/villages.v3i2.35
License
This journal is based on the work at https://villages.pubmedia.id/index.php/villages under license from Creative Commons Attribution-ShareAlike 4.0 International License. You are free to:
Share – copy and redistribute the material in any medium or format.
Adapt – remix, transform, and build upon the material for any purpose, even commercially.
The licensor cannot revoke these freedoms as long as you follow the license terms, which include the following:
Attribution. 

You must give appropriate credit

, provide a link to the license, and indicate if changes were made.

 You may do so in any reasonable manner, but not in any way that suggests the licensor endorses you or your use.

ShareAlike. If you remix, transform or build upon the material, you must distribute your contributions under the same license as the original.
No additional restrictions. 

You may not apply legal terms or technological measures

 that legally restrict others from doing anything the license permits.
Information for authors
The author should be aware that by submitting an article to this journal, the article's copyright will be fully transferred to Jurnal Administrasi Pemerintahan Desa. Authors are allowed to resend their manuscript to other journals or intentionally withdraw the manuscript only if both parties (Jurnal Administrasi Pemerintahan Desa and Authors) have agreed on the issue. Once the manuscript has been published, authors are allowed to use their published article under Jurnal Administrasi Pemerintahan Desa copyrights.
All authors are required to deliver the agreement of license transfer once they submit the manuscript to Jurnal Administrasi Pemerintahan Desa. By signing the agreement, the copyright is attributed to this journal to protect the intellectual material for the authors. Authors are allowed to share, copy and redistribute the material in any medium and in any circumstances.
• Creative Commons Attribution-ShareAlike (CC BY-SA)

Jurnal Administrasi Pemerintahan Desa is licensed under an International License